Our Premium Custom Fireplace Designs
Have you ever given any thought to building your very own outdoor fireplace, fire pit, pizza oven or kitchen? Not the one like somebody else has, but that special design that says "I'm not like everyone else." That one thing that sets your backyard apart from everyone else in you area. Well, our Premium Custom Fireplace and Kitchen designs may be just what you are looking for.

Even though there may be a bit of apprehension with respect to straight forward masonry and cinder block work, it's not as difficult as you may think to add those special touches to make your design unique. And you can save thousands by doing it yourself. See our testimonials for an example of how much you can save.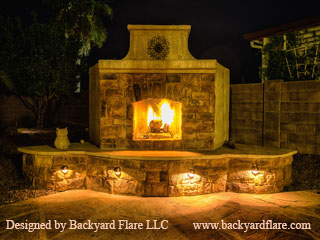 Backyard Flare Premium Fireplace and Kitchen Designs can assist you in managing your masonry fear by providing you with the same great instructions found in our standard designs. Each comes with a DIY step-by-step outdoor fireplace, grill or fire pit construction plan. With the turn of each page you will be led row by row as you build your beautiful outdoor structure. The plans include a list of materials and tools needed, large 3 dimensional CAD drawings for each row of building progression, helpful hints and reminders for you to use along the way, and detailed, easy to follow written instructions.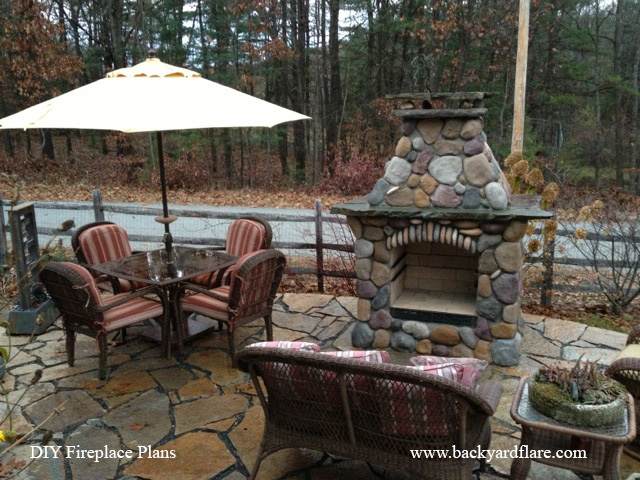 Because of the added design features and instructions, our Premium Fireplace and Kitchen Designs start at $79.99. If you see a design you like but want some changes made, we can accommodate you. We do it all the time for our customers. The price of a changed plan will depend on the level of complexity of your changes. If you want a custom fireplace design that will fit your outdoor space, contact us and let's discuss how we can assist you. You will end up with a one of a kind structure! The same goes for your outdoor kitchen or pizza oven. We can design a great look for your outdoor area. Most of the designs in our gallery are available as well. Call us and we can discuss your design ideas. We have put a great deal of thought and time into our outdoor fireplace, grill and fire pit design plans and we know you won't be disappointed. Our construction plans are as detailed as you will find anywhere.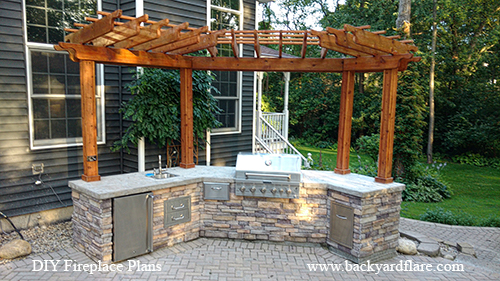 If you have any questions, or if you just want to know a little more about our products, email Dan at dan@backyardflare.com or call Dan at (520) 269-9740. Tell us how we can help you fulfill your outdoor fireplace, grill, pizza oven or fire pit dream. Dan can help you with suggestions depending on your available building area, level of difficulty in building, and with different design ideas. In the end, your design will be what you want, designed specifically to fit your space.

If you choose Backyard Flare be confident in knowing that we will be there for you along the way, and that you will receive the most comprehensive do-it-yourself outdoor fireplace, grill, pizza oven or fire pit construction plan on the market. The animated renderings for each fireplace design will show you the overall shape of the fireplace only and are not intended to guide you into a specific finished product. We are continuously working on new designs and we'll add them periodically.

Thank you for your interest in a Backyard Flare, LLC outdoor fireplace, grill, pizza oven or fire pit design plan. Your business is greatly appreciated. Please contact us with any questions at dan@backyardflare.com. We will get back with you shortly.